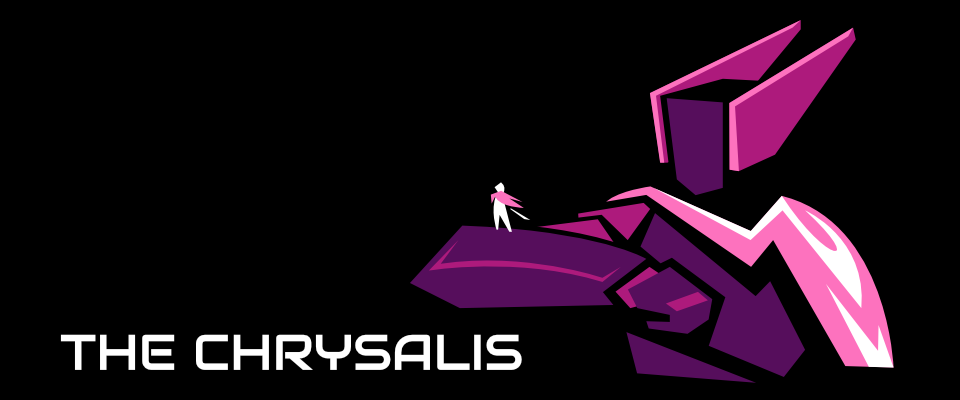 The Chrysalis
they will give you many names throughout your life. none of them will truly be yours— you cycle through them as you cycle through pilots. war is all the same to you— just flavor text, just background music.

the pilots, however.

you are their constant, though they will come and go. you will never forget them, though they are fleeting meteors in your lifespan. maybe they will die, maybe they will retire, maybe they will desert. maybe the butterfly that leaves the war is nothing like the caterpillar who entered it. it doesn't matter. you love them all, for better or for worse.
The Chrysalis is a playbook for Beam Saber by Austin Ramsay. Rather than playing the pilot, you play the mech-- an instrument of war who looks at their squad and their pilot and wonders if this is all there is. The Chrysalis recognizes their role as a cog in the machine of war and grapples with the choice: do I stay, do I go, and what becomes of my pilot if I leave?

This playbook, fully illustrated featuring art by Caro Asercion, contains everything you need to get started as a Chrysalis, including:
A guide to playing the mech in a pilot's game
7 new playbook moves and 10 unique interpretations of specialist gear
Advice and best practices for both player and GM to bring the Chrysalis to life and entangle them with the pilot PCs
A discussion of mech autonomy

The Chrysalis is a Beam Saber Supply Drop. This material is an unofficial supplement and is not affiliated with Austin Ramsay.
Purchase
In order to download this playbook you must purchase it at or above the minimum price of $5 USD. You will get access to the following files:
the chrysalis v1 singles.pdf
283 kB
the chrysalis v1 spreads.pdf
273 kB
Exclusive content
Support this playbook at or above a special price point to receive something exclusive.
community copies
if you're trans and there's no community copies left, please send me a DM on twitter @citadelofswords and i will send you a download key.